Shown below are some of our horses currently for sale. Please contact us for pricing and availability as many of theses horses are show ready and will not be for sale for long.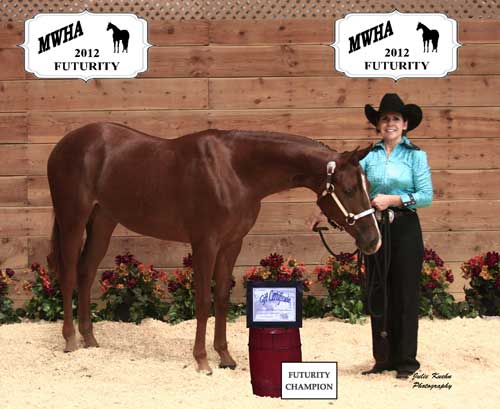 Investment So Fancy
, 2011 sorrel filly
Great all-around prospect. Longe line futurity winner. This filly has the looks, legs, and size to make a great show horse. About $2,000 in earning to date. Eligible for Iowa Quarter and MWHA futuritys. AQHA Incentive fund.
.
My Jacs Are Macs
2012 AQHA IF bay gelding by Macs Good N Plenty and out of a Sunny Dee Bar mare. Awesome jog and lope. Professional training. Super quiet and Super cute!
Investment Lace
2013 AQHA, IF, NSBA, Palomino filly by Absolute Investment with Spanish Rojo Leo and Skipper W breeding on the mare side. Lacey has over 120 days professional training. She is eligible for the NSBA Yearling Graduate classes in 2016. Lacey is an amazing mover with style and grace. Has the movement and size for all around classes. Easy going attitude.
IM Absolute
2013 AQHA, IF, dun gelding 120 days professional training.

Pedigree includes Absolute Investment and Zippo Pine Bar. Iowa Quarter Horse Breeders eligible.

Has the movement and size for all around classes.

Easy going attitude.
Presidential Ride
2013 AQHA IF Bay gelding by Presidential Order and out of a daughter of Absolute Asset. 120 days of professional training. Slow and easy going way. He's got the look!!
.
Absolute At the Bar, 2009 Buckskin Gelding--Sold

Congratulations to Katie and family on the purchase of Harley. Watch for this awesome team at the World show! 2009 AQHA ABRA gelding, NSBA licensed, AQHA Incentive Fund. AQHA point earner. Super quiet and great mover. HUS, Equitation, Showmanship and trail.
Lightly Invested, 2009 Palomino Geldng--Sold
Congratulations to Doug from Texas on the purchase of Lightly Invested, Huey is a futurity money earner. Pretty color and eye appeal! Outstanding movement and great manners. AQHA Incentive Fund and PHBA.


Carbon Copy Investment, 2009 Dun Gelding--Sold
Best wishes to Morgan and Regis for the upcoming show season. Watch for them at the Buckskin shows. AQHA Incentive Fund gelding by Jacs Investment Copy. Great for All around events. Cadenced and good legs. AQHA Incentive fund.
McSteamy Investment 2007 Palomino Gelding
McSteamy Investment, 2007 AQHA Incentive Fund, PHBA, and NSBA Palomino by Jacs Investment Copy and out of a Skipper W / Spanish Rojo Leo bred mare. Excels at Showmanship, walk trot, and horsemanship. Used as a lesson horse. Super quiet and loves his job. Outstanding movement with lots of eye appeal. Congratulations Barb on the purchase of McSteamy!
Copy My Asset, 2007 Dun Mare

2007 AQHA Dun filly by Absolute Asset out of Copys Zippo Is Dun by Zippos Jackson. AQHA If, NSBA, NSBA Licensed, eligible for Nebraska Silver CLassic Breeders Futurity, and the Reichert's Celebration. The Reichert's Celebation offers many colored classes that could easily win back her purchase price. She is naturally slow legged with a level top line. The package is complete with this outstanding filly. She is very talented, has teh movement, eye appeal, great personality, and manners to take you to the winner's circle. She is World Class filly and World Show material!

FallinLovewithRosie, 2006 Mare
FallInLoveWithRosie, AQHA Incentive Fund HYPP N/N. Rosie has futurity earning of over $3000. Western pleasure show experience. The perfect horse for Youth or Amateur. A Great personality and very quiet. Loves her job and is good at it! Rosie will excel at the Quarter Shows. She is the right kind, strong, athletic and sound. She is an awesome mover. Take a look, she is gorgeous. You will fall in love with her!
Jacs Senorita Rocki, 2000 Mare
Jacs Senorita Rocki, Pebbles is a nice looking quiet mare. Double registered AQHA and APHA Breeders Trust, money and point earner. Sire is WEstern Pleasure and Versatility Champion. Dam goes back to World Champion WP horse with 32 halter points. Pebbles is riding nice and would make a great youth or amateur open horse or trail ride. Can be registered Pinto.
Plenty Good Sensation

2010 Macs Good N Plenty gelding. AQHA Incentive Fund, NSBA BCF and SIF, PtHA regular registration. Extensive show experience. Money earner. Western Pleasure, showmanship, horsemanship. A great all around gelding. Outstanding halter horse. Quiet and easy going.